Welcome to the
Wheaton Olcott Lodge
 of the Theosophical Society in America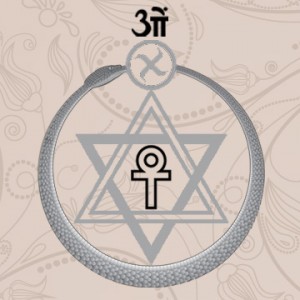 Meetings Notice during Coronavirus Pandemic
We hope you are all well and in good health. To protect the health and safety of our visitors and staff as the COVID-19 situation evolves, the headquarters of the Theosophical Society in America will be closed from March 15 until further notice. We therefore have decided to meet Virtually via Zoom conferencing. Please note, if you have not used Zoom before, it will need to load a client onto your device to render. This will be done when you first log in, and should be seamless. If you have virus protection you may have to accept and allow the installation. The meeting will resume at 7:00 PM CST on Wednesdays as before. The bridge will open at 6:30 to give everyone a chance to join early and make sure you are connected.
You should have received a link send by the Wheaton-Olcott Lodge mailer to access this meeting. Please contact us via email to the Lodge if you have not received the link. Please do not forward this link as our meetings are private and for members of this lodge exclusively.
This week we will return to our study of the Stanzas in Vol. I of The Secret Doctrine, picking up on p. 14 of the PDF (SD1-Stanza-1-2.pdf) with sloka 8 of Stanza 1.
Blessings to you all.
The Secret Doctrine
The topic of study for the 2019-2020 season will be H. P. Blavatsky's magnum opus The Secret Doctrine.
H.P.B says: Come to The Secret Doctrine without any hope of getting the final Truth of existence from it, or with any idea other than seeing how far it may lead Towards the Truth. See in study a means of exercising and developing the mind never touched by other studies.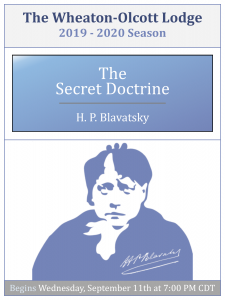 Ordinary intellectual activity moves on well beaten paths in the brain, and does not compel sudden adjustments and destructions in its substance. But this new kind of mental effort calls for something very different — the carving out of 'new brain paths.'
Reading the S.D. page by page as one reads any other book will only end in confusion. The first thing to do, even if it takes years, is to get some grasp of the 'Three Fundamental Principles,' given in Proem. Follow that up by study of the Recapitulation — the numbered items in the Summing Up to Vol. I (Part I). Then take the Preliminary Notes (Vol. II) and the Conclusion (Vol. II).
---
Evolution of the Higher Consciousness
Recommended reading: Evolution of the Higher Consciousness by Pablo Sender.
You can order a copy online by clicking here or by sending a check. If paying by check, first, send an email containing your order to: orders@fohatproductions.com then send the check to: PO box 1043, Ojai, California 93024
---
The Wheaton Olcott Lodge
There is a $3 per meeting per person suggested donation to attend and we share vegetarian and alcohol-free snacks after our formal meeting.
Meeting Schedule
Lodge Meetings for TS Members
Lodge meetings for TS members occur every Wednesday of the month from 7:00 PM to 8:00 PM Central Time. The season begins in September and ends in June. The lodge typically will not meet on the Wednesdays before Thanksgiving and Christmas.
To participate in the Lodge meetings for members online, by webinar, please send an email to WheatonOlcottLodge@gmail.com requesting an ID and password to access the webinar room.
Once you have received your password click here, to log in and you are ready to participate!
Download application for Theosophical Society membership by clicking the link below.
For any other questions contact us at: WheatonOlcottLodge@gmail.com
---
Theosophy Wiki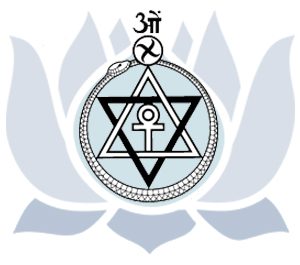 ---
Theosophical Search 
Theosophical Search is a handy web-based program that leverages Google and Bing to search Theosophical books and web sites. Click on the link below:
http://www.theosophicalsearch.org/
---
The Sunlight of Eternal Truth
The wise listen most readily to those whose habits of thoughts are most alien from their own, knowing that thus they may chance to catch a glimpse of some new aspect of truth, instead of seeing once more the mere reflection of the aspect already familiar. Men's racial habits, traditions, surroundings, are as coloured glasses through which they look at the sun of Truth; each glass lends its own tint to the sunbeam, and the white ray is transmitted as red, or blue, or yellow—what you will. As we cannot get rid of our glass and catch the pure uncoloured radiance, we do wisely to combine the coloured rays and so obtain the white.
From: Reincarnation by Annie Besant
To the question of whether Theosophy is a religion, Madame Blavatsky replied: Most assuredly it is not, since it is the essence of all religion and of absolute truth, a drop of which only underlies every creed. To resort once more to metaphor. Theosophy, on earth, is like the white ray of the spectrum, and every religion only one of the seven prismatic colours. Ignoring all the others, and cursing them as false, every special coloured ray claims not only priority, but to be that white ray itself, and anathematizes even its own tints from light to dark, as heresies. Yet, as the sun of truth rises higher and higher on the horizon of man's perception, and each coloured ray gradually fades out until it is finally re-absorbed in its turn, humanity will at last be cursed no longer with artificial polarizations, but will find itself bathing in the pure colourless sunlight of eternal truth. And this will be Theosophia.
From: The Key to Theosophy by Helena Petrovna Blavatsky
---
Man's Journey through the Arc of Evolution
As man is a seven-fold being so is the universe — the septenary microcosm being to the septenary macrocosm but as the drop of rainwater is to the cloud from whence it dropped and whither in the course of time it will return.
From: The Mahatma Letters to A.P. Sinnett – in Chronological Sequence, Letter No. 67
---